Pourquoi un blog de plus sur la bataille des Ardennes ?
Why another blog on the Battle of the Bulge ?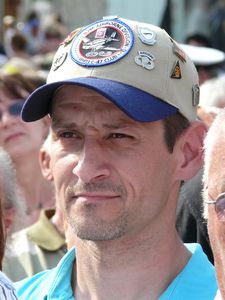 Comme beaucoup de familles belges, la mienne a souffert des 5 ans d'occupation nazie. Autant d'histoires, d'anecdotes qui ont éveillé mon intérêt pour cette période tragique mais plus particulièrement pour une bataille qui marqua les mémoires de ceux qui la vécurent tant du côté militaire que du côté civil, LA BATAILLE DES ARDENNES, plus communément surnommée l'Offensive Von Rundstedt par les Ardennais.
As many belgian families, members of my family has suffered during the 5 years of Nazi occupation. I took interest in WWII and more particularly in the Battle of the Bulge because of these family stories, anecdotes. That battle that would never been forgotten by the civilians and by those gallant soldiers who came and fought in a country they didn't even know.
Mon grand-père maternel, Joseph DUWEZ, d'Arbrefontaine, passa 18 mois comme prisonnier de guerre dans le Stalag IIC situé à Greifswald (Mecklenburg-Vorpommern) avant de pouvoir revoir les siens tout en évitant l'amputation d'une jambe grâce au bon soin d'un vieux médecin allemand. Il fut actif dans la résistance mais je n'ai malheureusement aucune information étant donné son décès en 1966.
My mother's father, Joseph DUWEZ, lived in Arbrefontaine. He was taken prisonner in May 1940 and he was ent 18 months in Stalag II C located in Greifswald (Mecklenburg-Vorpommern). A german doctor saved his leg from the amputation and due to his health problems, he came back earlier. According my grandmother, he had a poor health due to his stay in the camp and my grandfather died in 1966 while my mother was only 14 years old.
Ma grand-mère maternelle, Marcelle RENSONNET, habitait Anvers-Bruxelles et elle travailla pour les Anglais comme couturière.
My maternal grandmother, Marcelle RENSONNET, went in Antwerp-Brussels and worked for the British as a dressmaker-needlewoman.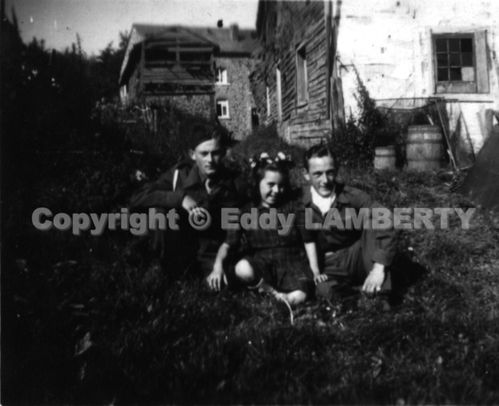 Photo de mon grand-père, Paul LAMBERTY à droite, alors qu'il faisait son service militaire. En permission, Grand-Halleux, 1946.
Picture of my grandfather, Paul LAMBERTY to the right. In 1946, he was doing his military service. Here, having a pass in Grand-Halleux.
C'est en 1989 que j'eus l'honneur de voir pour la première fois nos libérateurs. C'étaient des vétérans de la 75th Infantry Division qui paya un lourd tribut afin de libérer la vallée de la Salm en janvier 1945.
My very first meeting with our liberators was in June 1989 while the veterans of the 75th Infantry Division were back in Grand-Halleux. The 75th ID had suffered many casualties in the Salm valley in January 1945.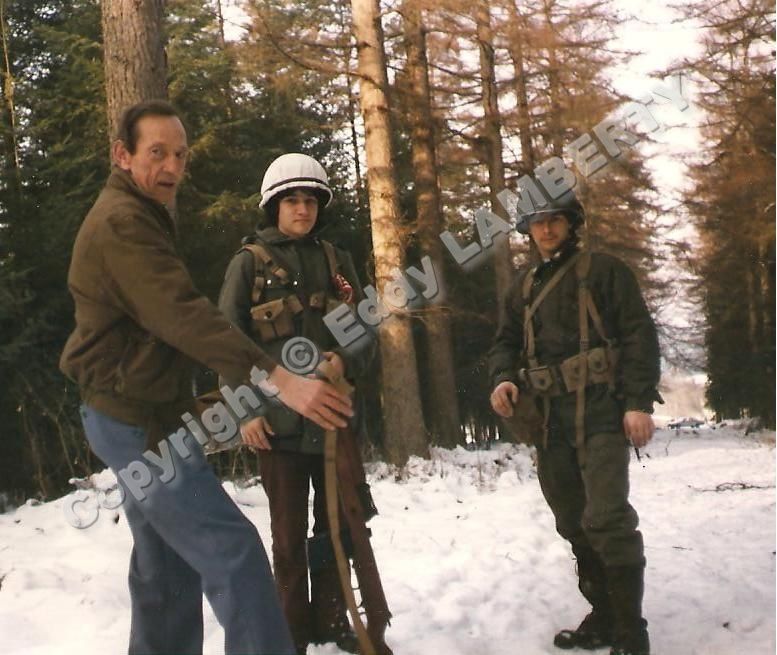 Milieu de année 80, près de Farnières: mon grand père, moi et mon cousin
Mid 80s, near Farnières. L-R: my grandfather Paul LAMBERTY, myself and my cousin
Note: please excuse my english that is not really perfect.
Copyright © 2011 Eddy Lamberty
Please send your comments, WWII accounts, WWII pictures to:
Eddy LAMBERTY
Avenue Joseph Lejeune 45
4980 Trois-Ponts
Belgium
Or: