A tragic day in the Ardennes by Allan C BARGER, Co D, 505th PIR,
Trois-Ponts,

December 25, 1944

A tragic day in the Ardennes

By Allan C BARGER, Company D, 505th PIR, 82nd A/B Div.
This page is taken from the first edition of the book "WAR & PEOPLE" published in the United States of America by the veteran Allan C. BARGER who gave me his written permission to use the poem page 115-117 (Chapter 15: Belgium Bulge) to pay tribute to the eight men who tragically lost their lives on Christmas Day 1944 above the little town of Trois-Ponts, Belgium.
Christmas day started as a beautiful day but it will always remain in my mind as the worst Christmas experience I ever had:
CHRISTMAS PRESENT 1944.
Above the town of Trois-Ponts we sat
On the first sunny day in a week.
It was Christmas day in the Ardennes
Up to now, things had been pretty bleak.
I rose slowly from my ice-rimmed bed.
And I returned my boots to my feet.
Men were stirring this side of the hedge
On the other, tombstones were replete.
The hedge had been our shield of defense.
I had dug my slit trench at its base.
The enemy crept beyond the town.
And the Captain showed his smiling face.
"Good morning," he said. "Have a cigar."
"No," I said: "It's too early for me."
I thought of saying: Merry Christmas.
"A beautiful day, Barger," said he.
I went over to the nearby spring,
But first I had to break off the ice.
I thought I would make some hot coffe.
I was sure that would be pretty nice.
We sat around, smoked, drank and we ate.
It was good to feel the wintry sun.
It seemed things were unusually quiet.
Life at the front is never much fun.
Then out of the sky came our own planes.
The P47's flew in so swift,
Four strafed the enemy way below.
Each giving a five hundred pound gift.
The last plane mistook some of our men
For en'my on our side of the hill.
He dropped his bombs directly on them,
What was left was practically nil.
But these men were one of our own squads
They were fixing their Christmas Day meal.
Eight of them were killed in a flash!
An event we will never conceal.
These were our good buddies in their prime
And every Christmas since that day
I cannot but remember that time
And I think of the pride they did pay.
I've dedicated this poem to these eight men:
Kenneth R. CRAIG
Edwin G. DAVIS
Thomas H. EVANS
John L. GRANT
Leland C. HELLER
Donald H. OLDS
Harold V. SCHRAMM
Bernard J. SCHROEDER
All killed in action, December 25, 1944
By Allan C. BARGER, Port Orchard, WA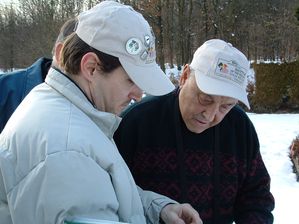 February 2005, near the cemetery of Trois-Ponts where D Co, 505th PIR had taken defensive positions after the 24th of December. L-R: Eddy Lamberty, Frank Bilich (D Co, 505th PIR).
Copyright © 2001-2016 Eddy LAMBERTY
Please send your comments, WWII accounts, anecdotes, pictures to:
Eddy LAMBERTY
Avenue Joseph Lejeune 45
4980 Trois-Ponts
Belgium
Or: